Pelatihan Logistics, Supply Chain Management (SCM) & Warehousing Management
Tempat : Hotel Noor Jalan Madura No. 6 Bandung 40115
Waktu : 09.00 – 16.00 WIB
Biaya : Rp. 3.800.000,-
Trainer : Kanaidi, S.E., M.Si., cSAP
Selain pelatihan di hotel seperti tersebut di atas, kami juga menyelenggarakan pelatihan online atau webinar…
Dengan biaya lebih murah yaitu Rp. 3.500.000,-
Berikut ini Jadwal Pelatihan di Bandung:
4 – 5 Januari 2022
3 – 4 Februari 2022
29 – 30 Maret 2022
12 – 13 April 2022
17 – 18 Mei 2022
28 – 29 Juni 2022
28 – 29 Juli 2022
30 – 31 Agustus 2022
27 – 28 September 2022
27 – 28 Oktober 2022
24 – 25 November 2022
27 – 28 Desember 2022
Deskripsi Pelatihan
Dinamika lingkungan industri serta persaingan yang semakin ketat telah mengubah sistem manajemen logistk yang selama ini dikenal. Supply chain management didefinisikan sebagai rangkaian aktivitas sejak dilakukan pembelian material, proses transformasi material menjadi bahan setengah jadi dan produk jadi, serta mendistribusikannya melalui sistem distribusi yang ada. Supply Chain mengatur aktivitas sejak di supply cycle, response cycle sampai ke delivery cycle. Perkembangan teknologi informasi telah banyak menyumbang tumbuhnya sistem Supply Chain Management. Saat ini semua fungsi manajemen logistik telah dapat dilakukan dengan menggunakan fasilitas internet dan intranet. Penggunaan web dalam supply chain telah menjadi trend di perusahaan industri manufaktur dan industri jasa terkemuka akhir-akhir ini.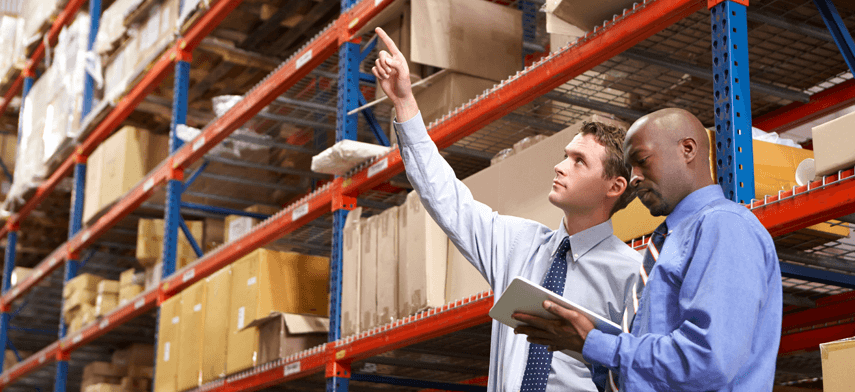 Manajemen logistik merupakan bagian dari proses supply chain management (SCM) yang berfungsi untuk merencanakan, melaksanakan, dan mengendalikan keefisienan dan keefektifan penyimpanan dan aliran barang, pelayanan dan informasi terkait dari titik permulaan (point of origin) hingga titik konsumsi (point of consumption) dalam tujuannya untuk memenuhi kebutuhan para pelanggan.
Dengan dikenalnya Just-In-Time inventory, maka warehouse management menjadi salah satu mata rantai penting dalam Supply Chain Management. Effective Warehouse Management  Training  ini akan membekali para peserta di bidang logistik, pergudangan, transportasi, dan produksi yang ingin meningkatkan kompetensinya dalam manajemen pergudangan. Kompetensi di bidang warehouse management menyangkut ERP, 5S, K3 pergudangan, performance hingga reporting.
TUJUAN TRAINING
Pelatihan ini bertujuan untuk memberikan pemahaman kepada peserta agar mereka mampu melaksanakan pekerjaan mengelola, mengarahkan, mengkoordinasikan, dan mengendalikan seluruh perencanaan dan implementasi kebijakan dan strategi logistik, transportasi produk dan operasional pelabuhan serta operasional gudang penyangga untuk menciptakan kinerja logistik pelabuhan yang efektif. Disamping itu, melalui pelatihan ini peserta diharapkan akan:
Memahami konsep Logistik dan Supply Chain Management (SCM)
Memahami konsep dan implementasi Warehouse Management
Mampu melakukan pengukuran kinerja gudang
Mampu bekerjasama dengan bagian lainnya dalam kaitan dengan SCM.
 SASARAN PESERTA
Para manajer, supervisor, dan staf bagian pembelian, pergudangan dan logistic, serta personil lainnya yang ingin meningkatkan pengetahuan dan ketrampilannya tentang Logistik dan Supply Chain Management, manajemen pergudangan dan persediaan yang terkait dengan pengelolaan keluar masuk barang (material flow).
MATERI PELATIHAN
Hari I :
Pengantar Umum Supply Chain Management (SCM)
Pengertian Supply Chain Management (SCM) dan Manajemen Logistik
Tujuan dan Tugas Pengertian Supply Chain Management (SCM) dan Manajemen Logistik
Redefinisi, evolusi dan peran logistik dalam dunia usaha
Fungsi & Manfaat Manajemen Logistik
Paradigma Baru Logistik
Peranan IT dlm Manajemen Logistik
Pengukuran Performansi Manajemen Logistik
Performansi Manajemen Logistik
Ukuran Performansi Manajemen Logistik
Produktivitas Sistem Manajemen Logistik
Kualitas Sistem Manajemen Logistik.
Supply Management and Relationship Management
Perkembangan terakhir konsep Supply Mangement
Mengukur Performansi Supply Management
Vendor selection technique
Negotiation technique
Supply integration and relationship management
Teknologi Informasi dan aplikasi sistem internet dalam Supply Management
Hari II :
Perencanaan dan Manajemen Persediaan
Pentingnya Perencanaan
Dasar Manajemen Persediaan
Mengukur Performansi Sistem Persediaan
Prakiraan Kebututah Persediaan.
Economics Order Quantity; Reorder Point & Safety stock material
Manajemen Transportasi dan Distribusi
Model sistem transportasi dan distribusi
Rincian aktivitas sistem transportasi
Mengukur produktivitas sistem transportasi
Shipment planning and management
Inventory Control techniques
Clarifikasi persediaan
Biaya persediaan
Sistem Pengendalian Persediaaan
Konsep, pengertian, dan tujuan Warehouse Management
Fungsi-fungsi dalam manajemen pergudangan
Prinsip-prinsip penerimaan barang
Mengukur performansi manajemen pergudangan
Tantangan dalam warehouse management
Ukuran dan pemilihan lokasi gudang

Implementasi warehouse management
13 fokus sukses dalam mengelola gudang
Keterkaitan antara Goods Receiving, Storage & Picking, dan
Manajemen Rak dalam Pergudangan

Keterkaitan moda transportasi dan pergudangan

Tips dan Trik Menjadikan Gudang ++
METODE PELATIHAN
Agar peserta dapat memahami secara komprehensif materi yang diberikan, maka digunakan beberapa aspek metodologi pembelajaran, antara lain :
Secara Online Training, dilakukan :
Penyajian/penyampaian materi secara online training,
Dengan dukungan multimedia dan aplikasi tertentu,
Membahas, mendiskusikan dan mengevaluasi permasalahan dengan model  case study &
Evaluasi pada akhir pelatihan mencakup kedalaman materi training, manfaat & efektifitas training, serta rekomendasi dari peserta.
Secara Offline Training, dilakukan :
Penyajian/penyampaian materi di dalam kelas,
Dengan dukungan multimedia, games & simulation/role-play,
Membahas, mendiskusikan dan mengevaluasi permasalahan dengan model  case study &
Evaluasi pada akhir pelatihan mencakupkedalaman materi training, manfaat & efektifitas training, serta rekomendasi dari peserta.
Fasilitas Offline Training:
Hotel Berbintang

Sertifikat Training

Modul (Hard Copy & Soft Copy)

Training Kit

1x Lunch dan 2x Coffee Break

Konsultasi kepada trainer jika ada materi yang belum jelas
Biaya Pelatihan adalah sebesar Rp. 3.800.000,- per peserta.
Untuk mendaftar pelatihan ini, silakan klik dan isi form pendaftaran pelatihan.
Atau anda bisa telpon atau sms kami pada no:
0813-2161-6080
atau 0851-0161-0108
atau 0819-1058-7707
E-mail : [email protected]
Facebook : Borobudur Training & Consulting
Twitter : @pelatihan_btc
Instagram : borobudurtraining